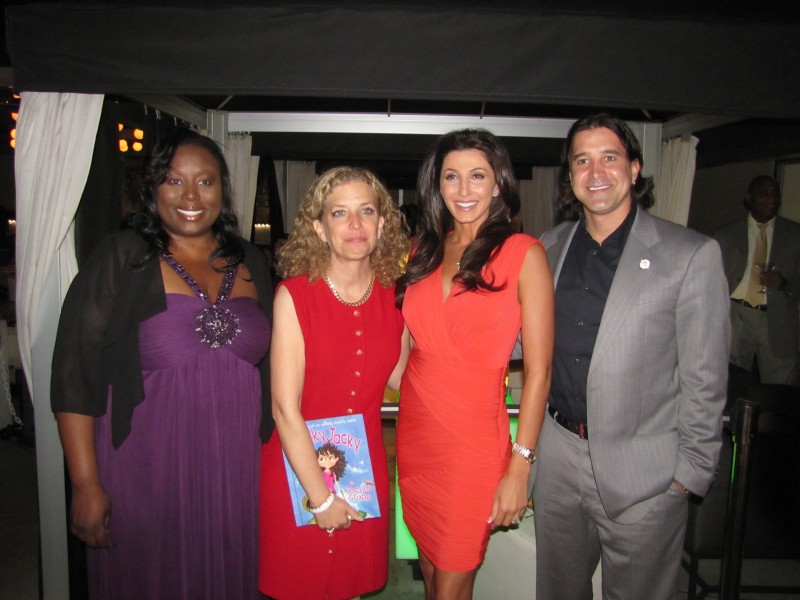 (Left to right) Founder of NVEEE, Jowharah Sanders, Congresswoman Debbie Wasserman Schultz, NVEEE's National Spokesperson, Jaclyn Stapp, and Creed Frontman, Scott Stapp.
Creed frontman Scott Stapp was on hand to see his wife Jaclyn accept the role of celebrity spokeswoman for anti-bullying non-profit National Voices for Equality, Education and Enlightenment at the Seminole Hard Rock Hotel & Casino Monday night in Hollywood.
Jaclyn Stapp, a model, was picked for the gig after writing an award-winning children's book, Wacky Jacky: The True Story of An Unlikely Beauty Queen. Believe it or not she, too, was the victim of bullying as she grew up!
The singer of With Arms Wide Open, who then left for Chicago for two Creed gigs at the famed Chicago Theatre over the weekend, and his wife and their three children live in a $5 million-home in the Long Lake Estates neighborhood near Boca Raton.
Said Jaclyn: "It has been a lifelong mission of mine to stand up for children and those affected by discrimination, and I look forward to continue spreading awareness of anti-bullying."
Article quoted from: http://www.gossipextra.com/2012/04/11/creed-scott-stapp-bullying-1370/