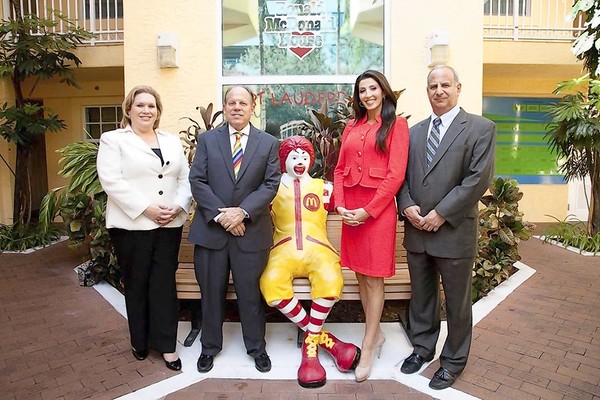 Ronald McDonald House Lights up for the Holidays
This year, giving back to charity again becomes a celebration for the family at the Ronald McDonald House of Fort Lauderdale. On Dec. 3 from 6 to 9 p.m., a lighting ceremony will kick off the eighth annual "Home for the Holidays," presented by Ronald McDonald House Charities (RMHC) of South Florida, Broward Health and United Healthcare. The celebration will take place at one of the South Florida houses, located at 15 S.E. 15th St., Fort Lauderdale.
"Each ticket purchased for the event directly pays for a family to spend a night at our houses," said Soraya Rivera-Moya, RMHC of South Florida executive director. "No one is ever turned away at RMHC and some families can't afford to pay for even one night, so the price of admission to 'Home for the Holidays' really goes a long way."
The Fort Lauderdale house will be decorated with holiday lights for the 2011 holiday season. Each light represents one night's stay for a family at the house as their child receives treatment at a nearby hospital.
This year's "Home for the Holidays" will be chaired by renowned children's author and philanthropist, Jaclyn Nesheiwat Stapp. "Home for the Holidays" is open to everyone and includes: live entertainment courtesy of Coral Springs School of Rock In-House Band, MUSE Center for the ARTS and Fort Lauderdale Children's Theatre; a Ronald McDonald live show; wine tasting; silent auction; raffles; and culinary delights from South Florida restaurants.
Admission is $20, which will be treated as a donation of a night's stay for a family. Admission for children 12 and under is free. RSVP online at http://www.rmhcsouthflorida.org.
For those who are unable to attend, they can spread the word and fundraiser with family and friends at http://www.home4theholidays. kintera.org. For more information call 954-828-1822 or email info@rmhcsouthflorida.org.
Article quoted from: http://www.sun-sentinel.com/community/custom/society/broward/fl-societyse-ronald-1123-20111123,0,7568445.story#tugs_story_display