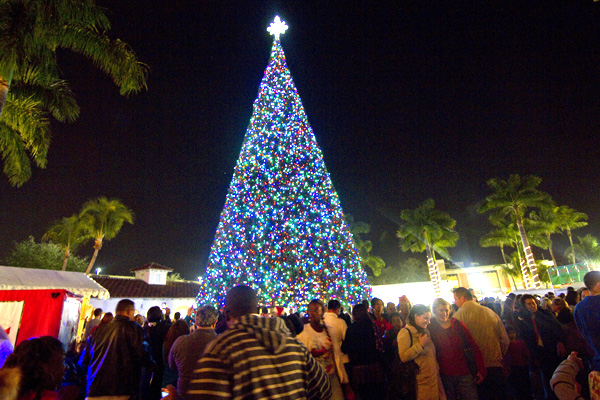 The countdown is under way for the lighting of the city's 100-foot Christmas tree.
The On the Ave event will take place Dec. 1 at Old School Square, starting at 5 p.m., when children's author Jaclyn Stapp will read "The Night Before Christmas," as well as her new children's book, "Wacky Jacky: the True Story of an Unlikely Beauty Queen." There will also be a performance by Lizzie Sider, a 13-year-old country and pop singer, and appearances by music groups from local schools. Santa Claus will make his grand entrance at 7 p.m. on the CBS Sky 12 helicopter, and the tree will be lit at 7:15.
"The beloved ice skating rink will be open for business, as well as the carousel. The entertainment will not be confined to the 100-foot tree in Old School Square. [The festivities] will span six blocks, from Swinton Avenue to East Sixth Avenue from 6:30 p.m to 10:30 p.m.," said Jamie Salen, special events and public relations manager for the Downtown Marketing Cooperative.
Sarah Martin, executive director of the Downtown Marketing Cooperative, said visitors will likely want to see Santa's new Holiday Cottage, courtesy of Seaside Builders and Richard Jones Architecture.
"Each year, tens of thousands of children line up to enter Santa's humble abode with one eminent objective in mind: to spend a few moments looking Santa Claus in the eye, and reminding him of what they wish for this year. After years of good use, the Delray Beach Marketing Cooperative dreamed of retiring Santa's house and replacing it with a newer model," Martin said. "While a new house for Santa was not a top priority for us in terms of budget, we wanted to make this year as special as we could for Delray Beach. This year is the centennial, and we just couldn't let Santa down."
Seaside Builders provided the labor, materials and expertise to complete the project. It took only two weeks to build, and architect Richard Jones stopped by the cottage while it was under construction to make sure every detail was perfect.
"We very much wanted to create something special in celebration of the holidays and the city's 100th anniversary," Jones said. "When we envisioned the design for the cottage, we incorporated an eclectic mix of old Delray style, coastal detailing and childhood dreams. We hope it becomes a memorable experience for all who enter and feel the magic of the holiday season."
For more information, visit http://www.downtowndelraybeach.com/holiday-festivities or http://www.downtowndelraybeach.com/on-the-ave, email Jamie Salen at jamie@delraybeach.com or call 561-279-1380, ext. 17.
Article Quoted From: http://www.sun-sentinel.com/news/palm-beach/delray-beach/fl-drf-lighting-1130-20111130,0,3220209.story