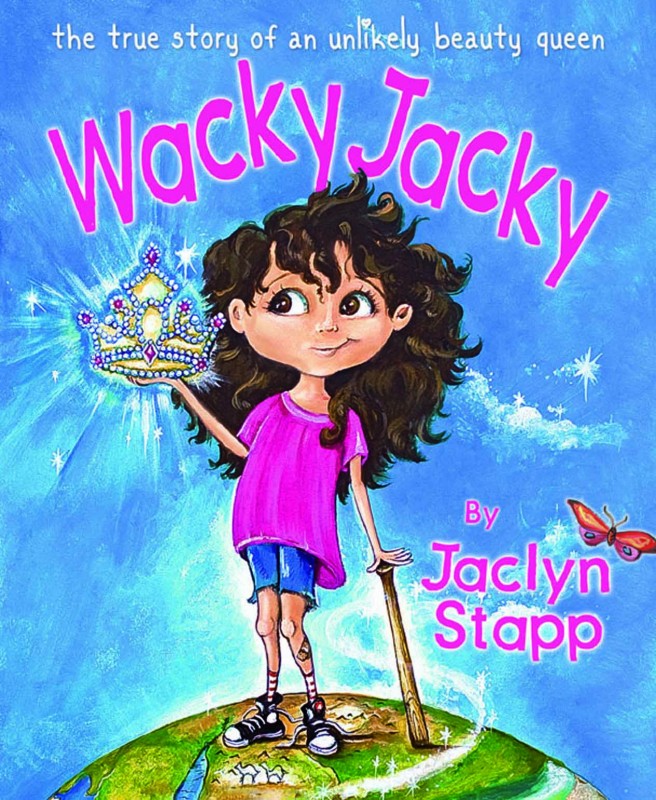 "Wacky Jacky: The True Story of an Unlikely Beauty Queen" is a self-portrait of the author as a child, written for children to inspire those who encounter special treatment because of their differences. Jacky decides to try to enter a beauty contest even though she has crazy hair, skinny knees, and her ethnicity is exotic, she is Jordanian.
Encouraged by her friend Mary from the Children's Hospital where Jacky volunteers, they design a special one-of-a-kind dress for her to wear. Her mother, Yuma, helps her realize her creation with careful sewing and many sequins. But what will she do with her wild, wacky hair? She decides to make the best of it and wears her dazzling red sequined dress and dark curly hair and performs a Jordanian belly dance for her talent act. In her question and answer portion, she tells the judges that what she learned from the pageant experience was to choose to be proud of her special origin and unique talents, abilities and attributes, because she has decided to use them to give life her best shot. Although another girl wins the pageant, Jacky wins first runner up, and she wins a special Spirit award for her volunteer work. Because this is "not the end" of the book, readers learn that Wacky Jacky went on to do more philanthropic work and to become Miss Florida in addition to other achievements.
"Wacky Jacky" is a great, inspiring story for children of all ages, but especially girls age 7-11. A portion of the proceeds from the sales of "Wacky Jacky" benefit CHARM, the author's national outreach foundation (nonprofit) that aims to heighten awareness of children's issues, empower young women, and enrich the lives of underprivileged youth.
Review Quoted from: http://www.midwestbookreview.com/cbw/aug_11.htm