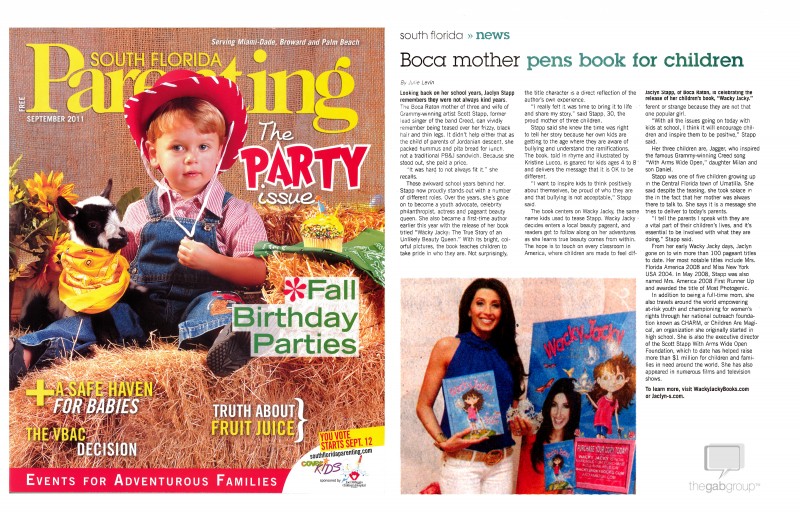 Boca Mother pens book for children
August 18, 2011|By Julie Levin, South Florida Parenting
Looking back on her school years, Jaclyn Stapp remembers they were not always kind years. The Boca Raton mother of three and wife of Grammy-winning artist Scott Stapp, former lead singer of the band Creed, can vividly remember being teased over her frizzy, black hair and thin legs. It didn't help either that as the child of parents of Jordanian descent, she packed hummus and pita bread for lunch, not a traditional PB&J sandwich. Because she stood out, she paid a price.
"It was hard to not always fit it," she recalls.
Those awkward school years behind her, Stapp now proudly stands out with a number of different roles.
Over the years, she's gone on to become a youth advocate, celebrity philanthropist, actress and pageant beauty queen. She also became a first-time author earlier this year with the release of her book titled "Wacky Jacky – The Story of an Unlikely Beauty Queen." With its bright, colorful pictures, the book teaches children to take pride in who they are. Not surprisingly, the title character is a direct reflection of the author's own experience.
"I really felt it was time to bring it to life and share my story," said Stapp, 30, the proud mother of three children.
Stapp said she knew the time was right to tell her story because her own kids are getting to the age where they are aware of bullying and understand the ramifications. The book, told in rhyme and illustrated by Kristine Lucco, is geared for kids ages 4 to 8 and delivers the message that it is OK to be different.
"I want to inspire kids to think positively about themselves, be proud of who they are and that bullying is not acceptable," Stapp said.
The book centers on "Wacky Jacky," the same name kids used to tease Stapp. Wacky Jacky decides enters a local beauty pageant, and readers get to follow along on her adventures as she learns true beauty comes from within. The hope is to touch on every classroom in America, where children are made to feel different or strange because they are not that one popular girl.
"With all the issues going on today with kids at school, I think it will encourage children and inspire them to be positive," Stapp said.
Her three children are, Jagger, who inspired the famous Grammy-winning Creed song "With Arms Wide Open," daughter Milan and son Daniel.
Stapp was one of five children growing up in the Central Florida town of Umatilla. She said despite the teasing, she took solace in the in the fact that her mother was always there to talk to. She says it is a message she tries to deliver to today's parents.
"I tell the parents I speak with they are a vital part of their children's lives, and it's essential to be involved with what they are doing," Stapp said.
From her early "Wacky Jacky" days, Jaclyn gone on to win more than 100 pageant titles to date. Her most notable titles include Mrs. Florida America 2008 and Miss New York USA 2004. In May 2008, Stapp was also named Mrs. America 2008 First Runner Up and awarded the title of Most Photogenic.
In addition to being a full-time mom, she also travels around the world empowering at-risk youth and championing for women's rights through her national outreach foundation known as CHARM, or Children Are Magical, an organization she originally started in high school. She is also the executive director of the Scott Stapp With Arms Wide Open Foundation, which to date has helped raise more than $1 million for children and families in need around the world. She has also appeared in numerous films and television shows.
To learn more, visit WackyJackyBooks.com or Jaclyn-s.com.
Article quoted from:
http://articles.sun-sentinel.com/2011-08-18/news/sfe-sfp-boca-mom-author_1_pageant-titles-jaclyn-stapp-wacky-jacky